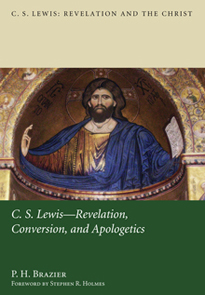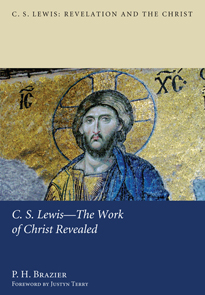 The Second book,
C. S. Lewis–The Work of Christ Revealed,
The first book,
C. S. Lewis–Revelation, Conversion and Apologetics–




Comments and Endorsements
on the Series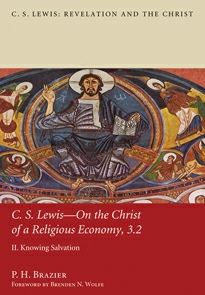 The Third Book (Part II), C.S. Lewis–On The Christ of a Religious Economy. II. Knowing Salvation.
"Readers of C. S. Lewis will welcome this patient and penetrating analysis of the Christian vision he elaborated and communicated. Paul Brazier shows expertly how Lewis held reason and revelation together when deploying the Scriptures and mythology in constructing an imaginative apologetic for faith in Christ, the Revealer and Redeemer who leads us through grace to glory."
—Gerald O'Collins
Professor Emeritus,
Gregorian University, Rome
"In recent years analytic philosophers of religion have given extensive and respectful attention to a number of Lewis's arguments, particularly some of his accounts of how Christ's death on the cross might bring salvation to humanity . . . these engagements have, however, generally been piecemeal. Paul Brazier has given us something new
. . . a full account of Lewis's theology, set out in systematic order, with attention paid to the developments in his thought."
—Stephen R. Holmes
Senior Lecturer in Systematic Theology, University of St. Andrews,
Scotland
"Much has been written about the Lewis-Anscombe debate, but Brazier succeeds in putting this exchange of ideas in perspective. His thorough analysis of Lewis's philosophical education not only places this debate in another light, but also offers new perspectives on the whole body of Lewis's writings. In addition, this volume offers a timely in-depth study of Lewis's thoughts on the church and an eminently useful exposition of Lewis on the 'last things.'"
—Henk van Wingerden
Minister of the Hervormde Gemeente, Protestant Church of the Netherlands, The Netherlands
"I have not found a more comprehensive, exciting, fresh study of Lewis's theology than Paul Brazier's work. This is a delightful study of Lewis the philosophical theologian, litterateur, and evangelist. With abounding summaries, definitions of terms, illustrations, and a detailed index, this work is indispensable to all readers of Lewis."
—Salwa Khoddam
Professor of English Emerita,
Oklahoma City University,
Oklahoma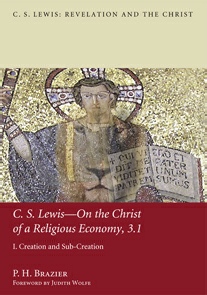 The Third Book (Part I), C.S. Lewis–On The Christ of a Religious Economy. I. Creation and Sub-Creation.


"In this truly wonderful book,
Brazier . . . shows us how Lewis,
a gifted storyteller, was able to appropriate the Hebrew creation account as a symbolic telling of a fundamental truth about the human condition. In the process, the reader is shown how classical Christian orthodoxy is upheld. . . . A pleasure to read for theologians and literary aesthetes alike."
—Prof. Gerald L. Bray
Research Professor of Divinity,
History and Doctrine,
Samford University,
Beeson Divinity School
"Like Lewis, Brazier casts a wide net, and his book is intended to appeal not only to students and theologians but also to the general reader. Never bogging down in obscure theological and philosophical discussion, Brazier leads us unerringly through the subtlety and rigor of Lewis' mind and imagination . . . C. S. Lewis-On the Christ of a Religious Economy, is an invaluable resource for literature as well as theology teachers"
—Suzanne Wolfe
Prof. of English,
Seattle Pacific University.
Executive Editor of Image Journal; co-founder of the Oxford C.S. Lewis Society; author of Unveiling, a novel.
"Brazier's work on the revelation of God in Christ will appeal to a very broad readership: academics and ministers, low church and high church, Lewis experts, and those exploring Lewis for the first time. Brazier's lucid and sympathetic explanations of Lewis' thought and theology provide an enormously valuable contribution to the existing corpus of Lewis studies.."
—Lucy Peppiatt
Dean of Studies,
Westminster Theological Centre,
author, The Disciple:
On Becoming Truly Human.
"As interest in and acclaim for the work of C. S. Lewis burgeons forth into a second century, more deeply rooted, systematic theological inquiry into the work of Lewis is essential. We are fortunate that Brazier answers this call for careful and contextualized analysis of Lewis' theology admirably and comprehensively in his ambitious and erudite series."
—Prof. Bruce L. Edwards
Professor of English
nd African Studies,
Bowling Green State University.
Editor, C. S. Lewis:
Life, Works, and Legacy (4-Vols.)

The Fourth book,
C. S. Lewis–An Annotated Bibliography & Resource–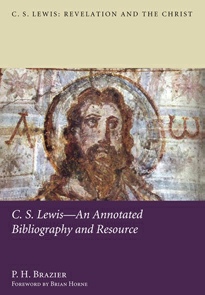 "As a humble Christian C.S. Lewis might have flinched at the idea of a bibliography of his work but as a literary man he would have accepted its value, even its necessity. P. H. Brazier's book is an outstanding Lewis bibliography, with an insightful essay on Lewis and Christology as well as a superb glossary. No one undertaking a serious reading of Lewis should be without it."
—Mark Brumley
President, Ignatius Press.
Author of How Not to Share
Your Faith.
"Our age assumes bibliographic work is nothing more than technical knowledge - best compiled by computer. This volume challenges that by restoring humanity and empathy to the craft of scholarship. The bibliographical study contextualises Lewis as one transfixed by the patristic vision of Christ, and gifted to share that with others through a wealth of literary endeavours. Anybody who wants to understand the theological and literary architecture of Lewis's 'Mere Christianity' will benefit from this work."
—Peter Sanlon
Lecturer, Doctrine and Church History Oak Hill Theological College
(Church of England)
"Dr. Brazier's C .S. Lewis–An Annotated Bibliography and Resource is the epic finale to a landmark series on Lewis's writings about Christ. Its detailed and insightful essay on Christology complements the other three volumes, while the book's exhaustive index makes it accessible and useful for both students and scholars. As a reference work, the comprehensive bibliography lays the foundation and serves as a starting point for the next generation of Lewis scholarship."
—Neil Hunter Raiford
Author and Teacher, Whitesburg Christian Academy, Huntsville, Alabama



About the Series . . .
C.S. Lewis:Revelation and the Christ is a series about Lewis's theology and his beliefs and inevitably his life. At the centre of his writings and his beliefs is the Christ. Therefore there is a systematic progress and basis to the books:
Book 1 C.S. Lewis–Revelation, Conversion, and Apologetics
Part 1–
The series opens with Lewis's conversion.
Given his convinced atheism as a young man, what turned him? We can also consider the conversion experience of his wife Joy Davidman. And compare Lewis with another orthodox Christian and 20th century intellectual giant, Karl Barth. How do the two compare?
Part 2–
What was Lewis's method? Who were his disparagers, his opponents? What were his sources? Popular apologist he may have been but also a serious philosophical theologian.
Part 3–
On this basis we can consider a detailed developmental survey of his work from the point of his conversion through to his death and how detractors may be answered. What can we conclude about his work and his understanding of the Christ?
Therefore . . .
Book 2 C.S. Lewis–The Work of Christ Revealed
Part 1–
At the centre of Lewis's conversion was the Christ, the Word of God. This historical event was different to all other religions. Therefore what did Lewis make of Scripture as the w/Word of God and as witness to this event. What did he understand of how revelation worked?
Part 2–
To say that this Jesus of Nazareth was God incarnate raises serious questions, especially how we debate with those who deny: therefore , for Lewis, this man Jesus was God, or a bad, or a mad, man. An analysis here of what Lewis and the tradition asserts is essential. How do we know the truth about Jesus? How did Lewis decide?
Part 3–
Lewis also asserted that Christ worked through other religious, other mythological systems of belief, though these were incomplete and fragmentary examples, subservient to Christianity. Therefore we examine Lewis's doctrine of Christological prefigurement.
Therefore . . .
Book 3 C.S. Lewis–On The Christ of a Religious Economy
I. Creation and Sub-Creation
Part 1–
If Jesus is the Christ, God incarnate, why did he come? The answer lies in a doctrine of creation – Christ as the agent of creation. The answer also is in humanity's wilful Fall into original sin: where Christ is the agent of redemption. What did Lewis believe here? How does he explain creation and redemption.
Part 2–
With J.R.R. Tolkien, Lewis subscribed to a God-given capacity in humanity to sub-create. This led Lewis into writing his own narratives, by analogy: The Space Trilogy, The Screwtape Letters, The Great Divorce, The Chronicles of Narnia and Till We Have Faces. What do these stories tell us about God, and God's plan of salvation for humanity.
Therefore . . .
Book 3 C.S. Lewis–On The Christ of a Religious Economy
II. Knowing Salvation
Part 1–
How do we know we are saved? How do we come to know about God's economy for humanity? Scripture asserts how Christ is the Logos, reason, and we have God-given speech to complement so that we can know. How did Lewis the philosopher tackle detractors here?
Part 2–
We are not left alone: we have the Church (though religion can be ambivalent). What was Lewis's doctrine of the Church, and of ministry. And what role doe the Church play in a religious economy for Lewis?
Is the Church truly the body of Christ?
Part 3–
Finally we come to the end times, the what-is-to-come: the eschaton, the four last things – death judgement, heaven and hell. Having considered the Church leads into the question of atonement, and with it what is meant by substitution and redemption, essentially Christ's work of salvation on the cross, but also, election, heaven and hell: resurrection and salvation, eternity and condemnation. What did Lewis say of humanity in relation to God, now Immanuel, God with us, incarnate, crucified and resurrected for us? What was Lewis's understanding of atonement – i.e. how salvation through the Cross works. What of Lewis's own end, and that of his wife? What role is there for the sufferance of salvation? And what of love?–the love that created the world, that moves the stars and the heavens? Love–and an understanding of corrupted love–is at the heart of Lewis's works.
"A groundbreaking treatment demonstrating C.S. Lewis's depth, originality and reinforcing the view of him as one of the twentieth century's greatest Christian thinkers. Crucially for those Evangelicals undecided on aspects of Lewis's theology, Dr Brazier's masterful examination of Lewis on Christology and revelation offers welcome reassurance. This substantial and nuanced volume, then, is a must-read, not only for Evangelicals but also any student of the life and thought of C.S. Lewis."
—Calvin L. Smith
King's Evangelical Divinity School
(United Kingdom)
"Serious investigations into the theology of C.S. Lewis have been long in coming . . . [T]he fact that Lewis was not a professional theologian has led to him being overlooked by those who were most able to engage critically and creatively with his writings. Fortunately . . . a new generation of scholars has taken up the task. Paul Brazier's latest contribution to this is a most welcomed accomplishment that will leave an indelible impression on our understanding of – and appreciation for – Lewis's remarkable theological contributions."
—DR. Grayson Carter
Associate Professor of Church History,
Fuller Theological Seminary,
Pasadena, California. Editor of
Sehnsucht: The C. S. Lewis Journal
"Owen Barfield wrote of C.S. Lewis that 'somehow what he thought about everything was secretly present in what he said about anything.' P.H. Brazier's comprehensive study details Lewis's Christology, revealing that what Lewis thought about Christ was what he thought about everything. This insightful, thorough, learned exposition of the quintessence of Lewisian theology also suggests a reading of his fiction and literary theory, bringing readers back to Lewis's ouevre again and again."
—Sørina Higgins
Published poet, and adjunct faculty
member in English, Lehigh Carbon
Community College
"In this rigorous and searching study of the theology of C.S. Lewis, Paul Brazier locates Lewis within the wider context of theological scholarship and shows him to be a theologian to be reckoned with in his own right, rather than simply a populariser of Christian faith. This most welcome volume in a proposed four-volume series will surely prove invaluable in the assessment of Lewis's legacy."
—DR. Murray Rae
Professor and Head of the Department
of Theology and Religion, University
of Otago, New Zealand
"The importance of C. S. Lewis as an apologist for 'mere Christianity' remains undiminished nearly fifty years after his death. The intensification of questions about the uniqueness of Jesus Christ and the significance of his life and work has if anything made him more important. Paul Brazier has done the church and the academy a great service in this . . . serious and accessible study of Lewis."
—The Very Revd Dr. Justyn Terry
Dean, President and Associate
Professor of Systematic Theology,
Trinity School for Ministry,
Ambridge Pennsylvania
"Comments and publications on C.S. Lewis have become increasingly sterile since his death in 1963–mere footnotes to the champion of 'mere Christianity.' So what a joy it is to find, as we do in this first volume of Paul Brazier's painstaking study of Lewis's thought, a genuine work of scholarship that is not only worthy of the great man but also provides for us what Lewis never did himself: a systematic philosophical theology of his religious method and beliefs."
—Dr. Andrew Walker
Emeritus Professor of Theology,
Religion, and Culture, King's College,
University of London
"Paul Brazier's new book performs two functions: it reveals the strength and depth of C.S. Lewis's contribution to modern Christianity, and it demonstrates the desirability of the art of apologetics in the contemporary world. As always, the writing is clear and direct, and the author has the ability to convey complex ideas and information to the non-specialist reader without surrendering any intellectual rigor."
—Dr. Brian Horne
Retired Lecturer in
Systematic Theology King's College,
University of London.
Chair, The Charles Williams Society