"In the Highest Degree"
Essays on C. S. Lewis's Philosophical Theology—Method, Content, & Reason
Vol I. & Vol II.
The theological and philosophical works of C. S. Lewis were grounded in the argument from reason. As such reason is a form of revelation that predates nature and relates to the divine: the Word of God, the Logos of Christ. This series of analytical essays seeks to provide some understanding of the essentials to Lewis's philosophical theology, that is, essential as in the Middle English, in the sense of "in the highest degree," the essentia, the substance. Lewis's corpus can seem disparate, but here we find unity in his aims, objectives, and methodology, a consistency that demonstrates the deep roots of his philosophical theology in Greek philosophy, the Patristic era, the Middle Ages, and in some of the Reformers, all framed by a reasoned discipline from a perceptive and critical mind: method. content and reason—for the glory of God. Here is the essentia of Lewis's thinking, the components of his philosophical theology. From an analysis of reason, through a theoretically unified proposition for atonement, to the evidence of Christ as the light of the world across human endeavours and religions, to a doctrine of election, to an understanding of scripture, we find fundamental arguments with various "modern/liberal" theologians, we find lessons for those obsessed today with identity politics, through to his method, technique, and form: at the centre is Jesus Christ incarnated of God Almighty, El Shaddai, Yahweh—Lord—crucified, ascended and resurrected for our salvation.
Volume 1 Endorsements:
"I really like Brazier's historically contextual style!
He gives us prominent aspects of Lewis' thinking as they emerge within the failures, criticisms, and hardships which confront and mould this extraordinary 20th century philosopher-theologian. Whether it be in the integral relationships of reason and revelation, the Bible and the Word, humanity and divinity, pre-eminent by Brazier's clear analysis is Lewis' consistent ordering of thought from the unique reference point of Jesus Christ,
the God who descends to re-ascend."
—Dr. Jeff McSwain,
Theologian in Residence, Reality Ministries Inc.
author of Simul Sanctification :
Barth's Hidden Vision for Human Transformation
"This book is a tour de force: it is replete with observations and reflections on C. S. Lewis as a philosopher-theologian. Brazier does not duck the limitations of Lewis's philosophical method ... Treating Lewis as a practitioner of philosophical theology is inspired, for it gives an insight to his strength and weaknesses as a Christian apologist that other collections rarely do. In short, don't take my word for the excellence of this book: buy it now and see for yourselves."
—Andrew Walker,
Emeritus Professor of Theology Culture & Education,
King's College London
author of Notes from a Wayward Son
Volume 2 Endorsements:
"For many years, Paul Brazier has made a significant contribution to the advancement of C. S. Lewis studies ... In this, the second volume of his collected essays on philosophical theology, Brazier brings together six of his writings, five of which having been previously published, while one, on the doctrine of election and predestination, is entirely new. Students of Lewis' theology (broadly considered) will be grateful that these informative essays are now available in a single 2-volume source,
which collectively comprise one of the most detailed
attempts to address this critical area of Lewis studies."
—Grayson Carter,
Associate Professor of Church History,
Fuller Theological Seminary
"C.S. Lewis' writings are as numerous as they are deep, full of references to classical writers and ideas unfamiliar to most moderns. Brazier properly situates Lewis's articles within their historical setting, identifies the key issues, and carefully evaluates Lewis's thought. Theologians wrestling with concepts of sensus plenior, story and myth, the incarnation, unity of the triune will, and free-will and predestination
should not ignore this book."
—Stephen M. Vantassel,
Director of Studies, King's Evangelical Divinity School; Review Editor, The Evangelical Review
of Theology & Politics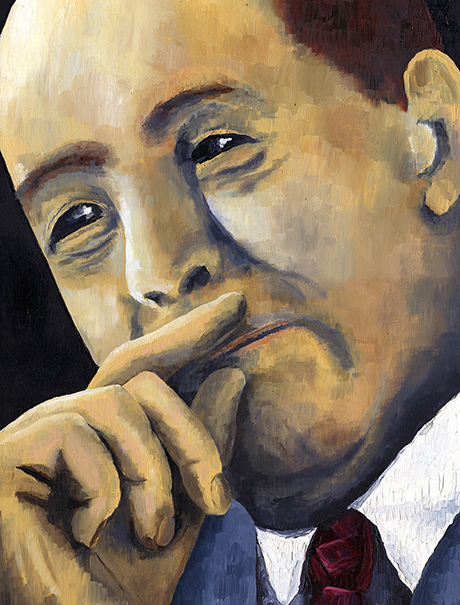 VOL. I
Chapter 1
The Anscombe-Lewis Debate:
from analogia entis to analogia fidei
Chapter 2
"God . . . or a Bad, or Mad, Man":
C. S. Lewis's Argument for Christ—A Systematic Theological, Historical, and Philosophical Analysis of aut Deus aut malus homo
Chapter 3
Atonement:
A Unified Model and Event, the Drama of Redemption—
Understanding and Rationalizing the Tradition
Chapter 4
Scripture and the Christ, the Word of God:
C.S. Lewis and Karl Barth—Convergence and Divergence
Chapter 5
The Pittenger-Lewis Debate:
Fundamentals of an Ontological Christology
Chapter 6
The Question of Multiple Incarnations:
Imagination and Paradox, Reality and Salvation
VOL. II
Chapter 1
Praeparatio Evangelica:
C. S. Lewis as a Catholic Evangelical, Defined by Method,
Technique, and Form
Chapter 2
Christological Prefigurement:
the Incarnation-Resurrection Narrative—History and Reality, Imagination and Mythopoeic Intimation
Chapter 3
Revelation and Second Meanings:
A Philosophical and Pneumatological Justification
Chapter 4
A Doctrine of Transposition:
Towards a Philosophy of the Incarnation
Chapter 5
The Actuality of the Incarnation:
Triune Simultaneity and the Will of God—Lewis . . .
and Shakespeare
Chapter 6
Election and Predestination:
Decision, Faith, and Responsibility—Whither Humanity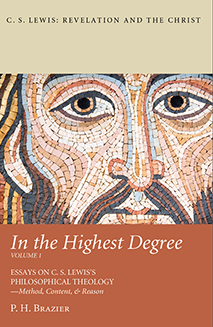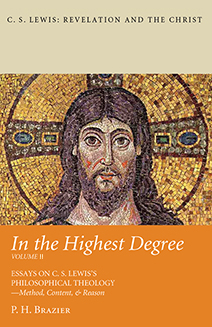 "In the Highest Degree:"
Essays on C. S. Lewis's Philosophical Theology—
Method, Content, & Reason Vol. I & Vol. II.
Essential: from the Middle English (c. 1066 to 1500),
in the sense of "in the highest degree;" from late Latin, essentia –
the essence of an existing entity. Analogical formation based on esse
("to be"), present active infinitive of sum ("I am"); essentia, ae,
f. sum, is the being or essence of a thing; originally from
the Greek, οὐσία (substance, property)
So, essence, substance, being, actuality, essential thing, existing entity, whole: how do we analyze and present the essentials of
C. S. Lewis's theological and philosophical thinking?
P. H. Brazier, "C. S. Lewis,"Oil on Linen, 13.38 x 9.84 cm, June 2018